The Omate X is a $129 metal smart-watch
11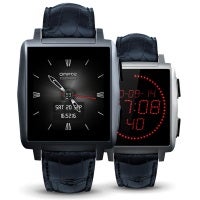 Smart-watches are still the mobile market space's younglings, which means there's a seat on the table for everyone that wants to bring their own. Omate has introduced its own take on the concept, and at least on paper, it seems to tick many right boxes! The Omate X has the good looks - a bit
Pebble Steel
-like, but even more sophisticated - and a custom software platform that functions with both Android and iOS phones.
While the hardware is pretty modest - a MediaTek ARM7 processor and 128MB of RAM - the Omate X can handle calls, SMS/MMS messages, and notifications. The Omate X is equipped with a 1.54-inch TFT display with 240x240 resolution and it has a built-in speaker, camera, gyroscope, and microphone. Meanwhile, the 400mAh battery drips with enough juice to power the gadget for a claimed one week with a single charge.
The Omate X is an intriguing smart-watch for sure. It will be up for pre-order between September 1 to September 30th, at a very reasonable price of $129. If this thing works as good as it looks, Omate might be having a winner on its wrists.