The Microsoft Surface Mobile will include a built-in projector, Surface Pen, and Win32 app support, leak shows
36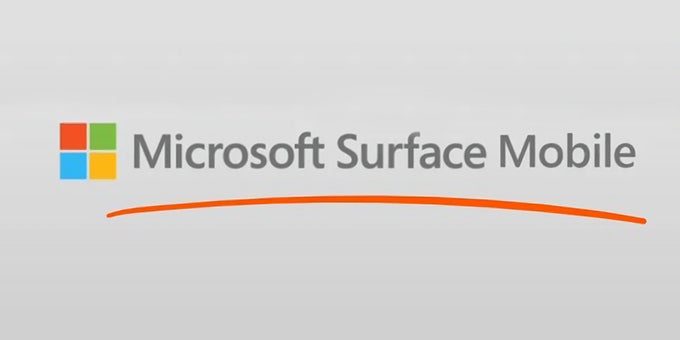 It's been a while since we've heard rumors of the mythical creature known as
the Surface Phone
, but if the rumor mill is to be trusted, a number of huge details about it (like, for example, that it hasn't been shelved like most of us suspected) may have just been revealed by Microsoft itself.
As far as obscurity goes, the source of the information probably ranks pretty high on your average Westerner's list – a video description on Microsoft's official account on Bilibili, a Chinese, anime-themed YouTube-like video sharing service. The text reveals a couple of
very
interesting details, to say the least. First off, the name: at least in China, the device won't be called the Surface Phone, but rather the Surface Mobile.
On-table projection
The Surface Mobile is said to include built-in, "onto table" projection capabilities in Continuum mode. That is, you'll be able to use a regular Tdesktop interface wherever you go, no monitor required (for about an hour). For those of you who are unaware, Continuum was one of the first major implementations of the desktop-on-a-smartphone idea (last seen with
Samsung's DeX Station
), and essentially looks and acts like a regular Windows 10 desktop (but only supporting UWP apps).
The Surface mobile will also include some sort of stand or base, which will be able to lean up to 185 degrees. There's two possible reasons for this inclusion: firstly, to project something onto a surface, one needs to keep their phone upright somehow; and secondly, to make it fit alongside its siblings in the Surface family.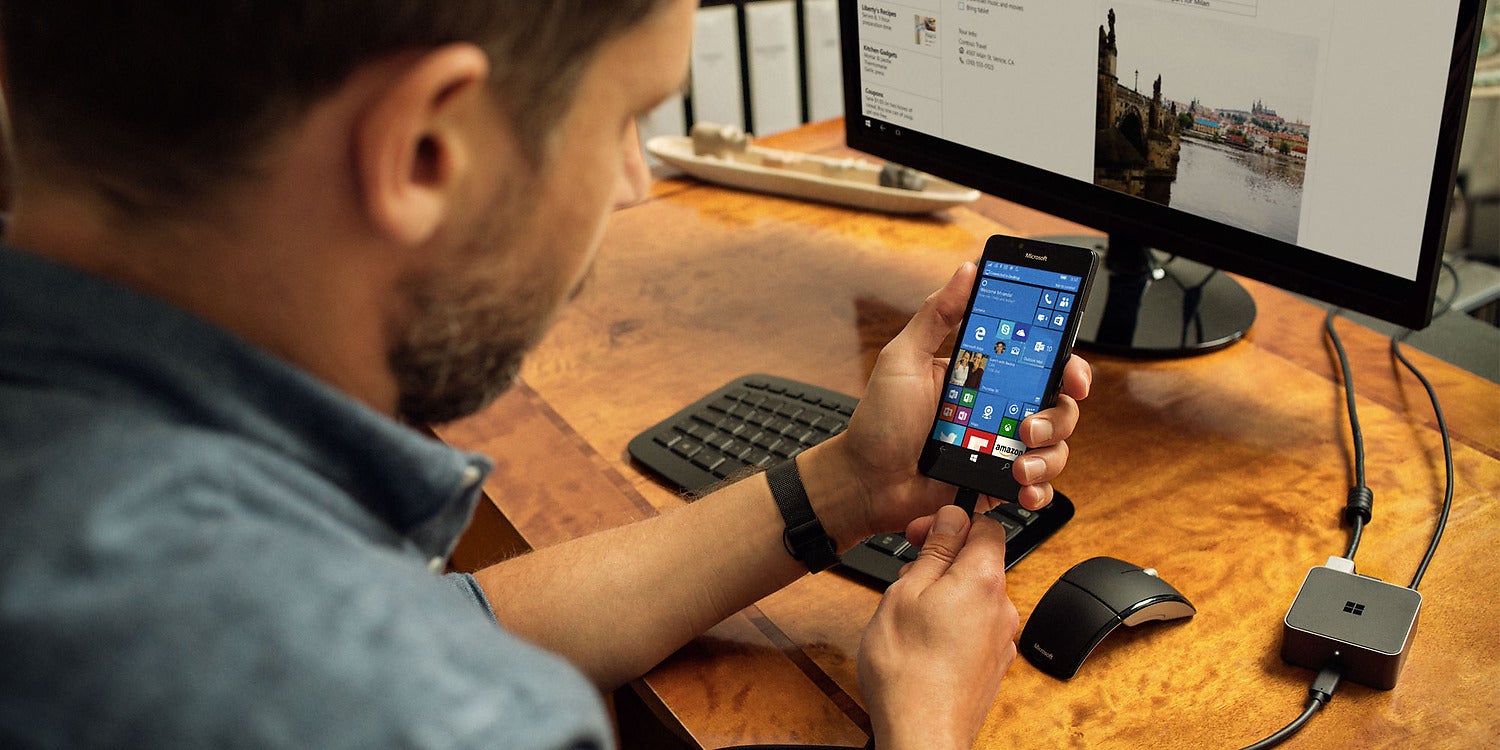 An external dock and monitor may stop being a requirement for Continuum soon
The projection feature is said to be usable for only about an hour, unfortunately. This is somewhat logical, though: we imagine such a feature produces an excessive amount of heat which, in extreme conditions, can damage a phone. Plus, battery life could potentially be a major concern as well – but we still don't know any specifics, so all we have is speculation for now.
Surface Pen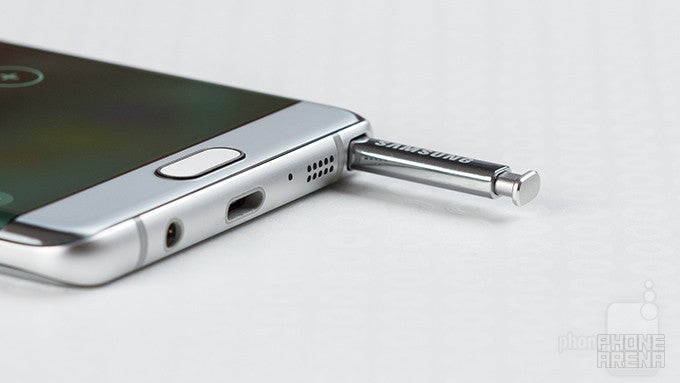 A built-in stylus such as the one in the Galaxy Note series will be a great addition
But possibly the biggest feature people have been asking for in a Microsoft phone might finally come with the Surface Mobile: Surface Pen support. And what's even better, this will be a model specially designed for the device, with one translation of the description saying the Surface Mobile will come equipped with it. So a Galaxy Note-style pen tray? We hope so.
And on the software side, the Surface Pen will be able to easily call out OneNote with a single tap on the device's display, which should be extremely convenient for taking instant notes on the fly.
Hardware
Here we have some good and some bad news. What's good is that the Surface Mobile will be powered by a Snapdragon SoC, providing "a perfect balance between performance and power consumption." The bad news is that this exact line sounds suspiciously like Microsoft justifying putting a mid-range processor into its flagship. So we expect to see a 6xx-line chip inside, which will hopefully be
the recently-unveiled 660
, whose benchmarks
show a lot of potential
. On the other hand, we've also heard rumors of a
Snapdragon 835-equipped Surface Phone
, so nothing is for sure.
However, let's take a moment to look
at a couple of
Microsoft patents
from a few months ago, which show a foldable, two-display device which perfectly fits the bill for the Surface Mobile and its mysterious hinge.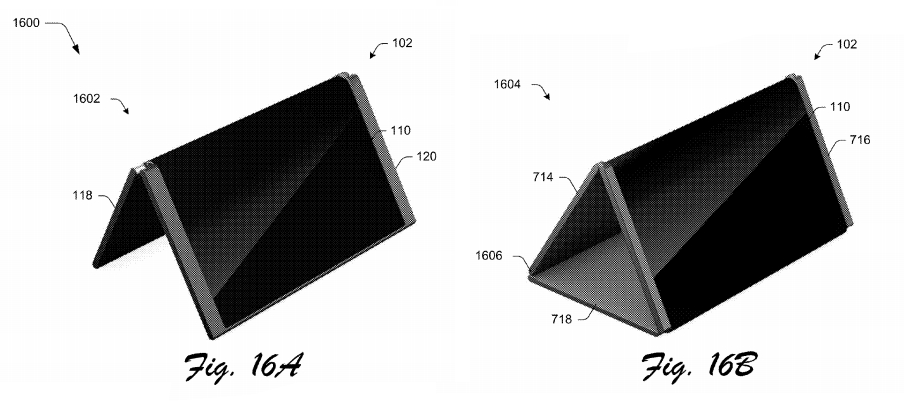 A graphic from one of Microsoft's patents for a foldable smartphone
Software
This is Microsoft we're talking about, which means the device will absolutely run some version of Windows 10 Mobile. But here's where things get interesting: the text heavily alludes to support of regular, Win32 applications (or .exe programs, if you will). This is a major change for the platform, which has thus far only supported Universal Windows Platform apps on mobile instead. Whether support for them will be limited to Continuum mode is unclear, but the implications are exciting nevertheless.

Surface Peking and Surface Slavonia
Lastly, the description ends with a mention of two things called "Surface peking [sic]" and "Surface Slavonia." These most definitely do not sound like features, though: instead, they are most likely the names, or at least the code names, of two separate Surface Mobile handsets (Peking and Slavonia are both real-life locations, and companies just
love
naming products after such things). This could also explain why a specific SoC wasn't mentioned: perhaps the two different models could sport different internals.
Predictions
So, overall this leak seems pretty legitimate: while the video itself was deleted, a cached version of its page can still be found online, proving it came directly from Microsoft itself. And judging by what we're seeing here (which, unfortunately, doesn't include any photos), Microsoft isn't betting on the mainstream anymore, but instead hopes to capture an audience with people who really love the idea of a hybrid desktop/smartphone.
Whether this will work remains to be seen (though Microsoft's previous efforts don't give us that much hope), but we still have a lot to find out about the device as well, including actual hardware specs, design, and price. Plus, Microsoft is no stranger to
giving up on innovative ideas at the last moment
, so there's a distinct possibility that the Surface Mobile might never actually make it to the market.
Recommended Stories