The Meizu NIUX might be a non-Samsung powerhouse packing Samsung's screen and processing technology
10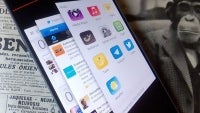 After going the MediaTek route for a number of its recent smartphones, Chinese upstart Meizu is back to ordering silicon from Samsung with a flagship smartphone in mind. By the looks of some leaked source code, an upcoming Meizu NIUX with an Exynos 7420 chipset is in the works. This is the same SoC used in this year's Galaxy S and Galaxy Note devices by Samsung, so it goes without saying that the NIUX will be a hi-end offering from Meizu.
It also appears that the NIUX could be the only non-Samsung hi-end smartphone powered by the Exynos 7420 this year. So far, only Meizu has been incorporating Exynos chipsets, while pretty much everyone else is either shopping from MTK and Qualcomm, or building their own thing behind closed doors (like Huawei, Xiaomi, and LG). The Meizu-Samsung partnership also stretches to AMOLED screens, yet another piece of technology that's rarely seen on a non-Samsung device.
Understandably, the rest of what comprises the Meizu NIUX's spec sheet are top-shelf components only. There's a 5.5-inch 1080p screen, 3 or 4 gigabytes of RAM, a 21MP rear cam, and a 5MP front cam in the mix, which means Meizu has been feeling quite ambitious lately! It's not easy sourcing premium components if you aren't a gargantuan like Apple and Samsung. And where hi-end gadgets circuitry goes, so does exemplary design.
In this regard, the NIUX is allegedly going to get a 2.5D glass front panel, bezel-less design, and a mirror-like finish on a metal body. Sounds like a Galaxy S6 lookalike a bit, no? Well, it might be on the outside, but on the inside, the NIUX is running Android 5.1 and comes with Meizu's Flyme 5.0 user interface, making for a much different experience than Samsung's TouchWiz.
Meizu's definitely going to rack up some attention after such a juicy leak. Hopefully, the Chinese manufacturer will deliver on the hype. Looking back, we can't actually remember Meizu disappointing us, so we'll be keeping an eye for developments around this smartphone. We're leaving you with a leaked NIUX wallpaper to keep you company in the long, lonely wait!
via
GizChina
,
Android Headlines
Also read: