The Meizu M3 is official with super-fast memory chip and sub-$100 price-tag
9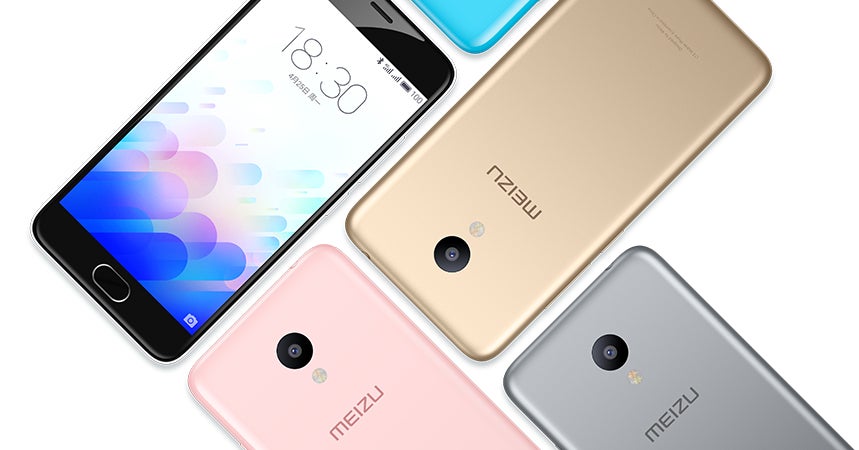 Lovers of exotic handsets are probably well aware of the Meizu brand – hailing from China, the company is a worthy competitor to Xiaomi, as both are well-known for offering smartphones with pleasant designs and top-shelf hardware for aggressive prices. Getting your hands on either of them on a Western market is a bit harder, but Meizu does seem to be just a bit more accessible internationally than its compatriot.
Just a couple of weeks ago, we saw the reveal of the Meizu M3 Note – the company' budget-priced phablet-class device. Now, wasting no time, the smartphone slinger follows up with the Meizu M3 — the re-iteration of what is Meizu's "entry-level" line of handsets.
Unlike its bigger sibling, the M3 Note, the Meizu M3 didn't adopt a metal body, but that's easily justifiable, given the entry-level class.. Overall, the handset's design doesn't steer far from that typical Meizu shape – a rectangle with soft corners, noticeable arches on the sides of its back, and thin, thin side bezels. The M3 also features a fingerprint scanner on its home button, a commendable feat for an entry-level class device.
On the hardware side of things, we have a 5-inch 720x1280 display, an octa-core MediaTek MT6750 SoC, 2 GB / 3 GB of RAM, and 16 GB / 32 GB of expandable internal memory. The storage chip inside is of
the eMMC 5.1 variety
– introduced by Samsung, it's a tech that offers about 50% faster random read speeds, and nearly doubles random write speeds, compared to the older eMMC 5.0 chips. The M3's main camera is a 13 MP, phase detection AF-assisted shooter with a dual-tone flash. On the front, we have 5 megapixels. The phone carries a 2,870 mAh juicebox in its backpack to keep the lights on.
The handset is currently up for pre-order at the prices of $92 for the 16 GB / 2 GB model and $123 for the 32 GB / 3 GB one. It will be a while before the M3 makes its way to 3rd party retailers, so you probably won't be able to get it internationally just yet. Word of warning, though — if you are considering one of these exotic midrangers, bear in mind that they might work with your operator only partially (no LTE) or not at all; that you will have to pay shipping and / or import tax, which means that the phone will end up costing more than the lucrative $92; and that some 3rd party retailers like to fill handsets with malware, so they are best to be avoided by folk that don't want a tech challenge on their hands.