Super-fast eMMC 5.1 phone flash storage announced by Samsung, could the Galaxy S6 come with it?
29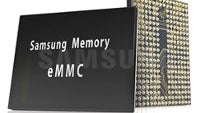 It feels like we're always talking about the amount of RAM or the processor powering this or that smartphone, but what about the performance of its flash storage?
We recently tested a number of different Android devices
and the results of our tests clearly show that not all manufacturers are using the best available. Speaking of best, Samsung just came out and announced the world's first eMMC 5.1 memory chips, which
could
just end up in the Galaxy S6.
Complying with JEDEC's (the semiconductor industry's standards body), the new NAND flash tech will offer impressive performance edging on older SSDs'. Samsung's statement, which singles out the 64GB model, claims that it can achieve peaks of 250MB/s for sequential data reads and 125MB/s for sequential writes. For random read/write performance, Samsung cites 11,000 IOPS (input/output operations per second) and 13,000 IOPS, respectively. According to the company, that's up to 7/26 times faster than your typical external microSD card. The new chips are also marketed as being the first in the industry to offer a command queuing function, which would allow multiple commands to be queued up in advance instead of upon completion of the previous, and that should help with multitasking performance.
Lastly, and this is the really intriguing part – Samsung says that it's already in the process of preparing to ship these new chips to "
some smartphone and tablet OEMs
". Given how Samsung has likely been working on these for a while now, this definitely begs one important question: Could the Galaxy S6 be on its way with one of these new bad boys on board?