The M7 is HTC's rumored flagship for Q1 2013
32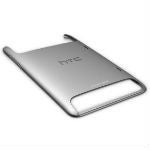 The fall may be the time when Apple releases its new iPhone, and Google releases the new Nexus, but Q1 is when other big names come out of the gate. It looks like HTC is trying to push out its flagship M7 before Samsung gets the new Galaxy S IV on the market. At least, that's the new rumor coming out of China and Taiwan.
Word has it that HTC wants to beat Samsung to market with its flagship, and that will be the M7. The M7 is rumored to be a 5" smartphone (no definite specs, but we'll assume 1080p) powered by a Qualcomm APQ8064 Snapdragon S4 Pro quad-core processor. It should be packing LTE, and rumor has it with a 13MP camera.
On the outside, rumor has it the M7 will be housed in an aluminum unibody chassis which could be designed like the One X, which is to say, it'll probably look like an HTC handset. It sounds like a great phone, and we're definitely excited to see if the camera rumors come true. If the M7 really is due in Q1, we should hear more about it soon enough.