LG V10: New features and key takeaways
17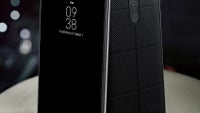 LG teased a new, high-end device other than the G4 all the way back in March, and now, half a year later, the thing is finally official: the 5.7-inch V10.
With the new phablet, quite a bit is on offer, and though the flagship title remains in the hands of the G4, the V10 is, technically speaking, the more decked-out of the two, with a specs sheet that will salivate geeks. Starting with the aforementioned, 5.7-inch display, it's a Quad HD panel actually, powered by a hexa-core Snapdragon 808 — nicknamed 'Good boy" for not trying to set your hands on fire. That's hardly all, of course, and we've got quite a few firsts with the V10 — some only in the context of LG, others world-wide.
So, if all the noise around the LG V10 has messed up with your concentration and you find yourself still uncertain as to what's on the table, you've come to the right place. Find below a round-up of all the major features of the V10, and a few important takeaways.