The HTC Butterfly S can't come sooner, so here's what you can do about it
24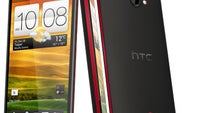 Alrighty! So bar regional pricing and availability, this far we know pretty much everything about the HTC Butterfly S - including the fact that it's
one of the speediest devices out there
, overshadowing all of its HTC brethren, the One included.
If patience isn't your strong suit and the built-up anticipation is driving you insane, there are some options if you live in the good ol' US of A.
If
eBay
is too shady for your taste, or the price tag there puts you off, you now have an additional option.
Overseas Electronics
is now officially offering to sell you the Butterfly S unlocked, should you deem $850 a worthy investment for HTC's latest and greatest. To sweeten the deal, you're also offered a choice of color ranging from Black, Grey, Red and White with a UPS delivery that will set you back an additional $12.
A tad more affordable, the folks over at
Negri Electronics
offer you almost the same deal for $772 with a few noteworthy drawbacks – the device is only available in black as of this writing, and there's no indication as to when exactly the device will ship to your doorstep.
Lest you forget,
the HTC Butterfly S is scheduled to launch with some juicy internals
– a quad-core 1.9GHz Snapdragon 600 processor, 2 gigs of RAM and 5 inches of 1080p glory. Accompanying those are an Android 4.2.2 Jelly Bean, HTC's trademark 4MP 'Ultrapixel' camera and a set of two stereo speakers, dubbed BoomSound by the Taiwan-based manufacturer.
source: GSMArena