HTC Butterfly S faster than HTC One, benchmarks confirm
27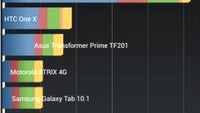 The
HTC One
isn't the company's fastest smartphone anymore, or at least not when it comes to raw processing power. That title now belongs to the HTC Butterfly S, according to the benchmark results embedded below as proof.
How is that possible, you ask? Well, both smartphones do come equipped with the very same chip, namely a Qualcomm Snapdragon 600. However,
the HTC Butterfly S has its silicon clocked at a slightly higher frequency
– 1.9GHz, vs the HTC One and its 1.7GHz CPU. That's why the Butterfly S benchmarks constantly show a slightly higher score.
So is the HTC Butterfly S now the company's flagship? Perhaps, but it really depends on how you look at it. Power users would surely feel that way since the Butterfly S is faster, at least theoretically. It also packs a massive battery with a capacity of 3200mAh, so it is likely to last much longer than the HTC One on a single charge. On the Other hand, the HTC One is, as many would agree, prettier with its slim and sleek metal body. Besides, a casual user probably wouldn't really notice any difference in the way these two smartphones perform in real life.
So yeah, the HTC Butterfly S is slightly faster than the HTC One, but this doesn't mean that the latter is now suddenly any less attractive of a handset. Go take a look at the benchmarks below if you're interested in how much of a lead the Butterfly S really has.