The Galaxy S6 spends 3 minutes in a bowl of Pepsi - now that's a sticky situation
18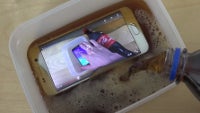 When Samsung announced the
Galaxy S6
, it became obvious that the premium design of the device took its toll in the form of some practical features. Unlike its predecessor – the
Galaxy S5
– it doesn't have a microSD slot for storage expansion, doesn't have an easily swappable battery, and is no longer water-resistant. Thankfully, the
Galaxy S6 Active
, which was recently released, aims to please users who tend to put their smartphones through conditions a bit harsher than normal, and packs a protective armor, which provides water resistance.
So, it may have lost its IP 67 rating, but how susceptible is the Galaxy S6 to liquid damage? Will it die as soon as it gets splashed? Can it spend some time under water before giving up? Well, the video below may provide the answer to that.
YouTuber "adrianisen" seems to harbor some kind of hate either for flagships or for carbonated drinks. He enjoys pouring a bottle of Coke (or Pepsi, in the case here) in a plastic container and submerging an expensive smartphone model in it. Before,
we've seen him
do it with the
Xperia Z3
and the Galaxy S5 – a meaningful test, seeing as both devices were toted as water-resistant.
But what about the Galaxy S6 – could it survive? Surprisingly – yes – though, the video does not examine whether the earpiece or microphone have been affected in any way. Needless to say, we highly recommend you not try this with your own handset, and to keep protecting it from spills, just to be on the safe side.