The Asus ZenPouch is a waterproof carry bag for almost any smartphone
8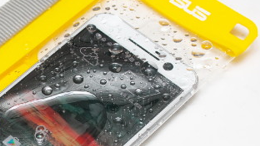 As you may know, Asus' Zen brand includes not just smartphones (the
ZenFone
family), but also tablets (ZenPad), smartwatches (
ZenWatch
), and even portable battery chargers (
ZenPower
). This week, Asus announced yet another Zen product: the ZenPouch - a waterproof, easy-carry pouch made for smartphones (regardless of brand).
The ZenPouch is made out of nylon and TPU (Thermoplastic Polyurethane), and is IPX8-certified, which means it can protect your smartphone for unlimited amounts of time in wet environments, or under water (though it's not advisable to go beyond 1 meter under water). The pouch features a crystal-clear front window, allowing you to operate your phone's touchscreen, while rear cameras are not obstructed - so you can take pictures and video. Also included are a slip pocket (for your card, or cash money), a hand strap, finger hook, and a detachable shoulder strap. All in all, the ZenPouch can come in handy in various situations, like at the pool, while boating, or - why not - when you want to use your phone relaxing in the bathtub.
While Asus says the ZenPouch is compatible with smartphones sporting screens no larger than 5.5-inches, it also notes that it actually fits devices measuring up to 185 x 90 x 12 mm - so you can even use it with very big phones like the
Samsung Galaxy Note 5
, or the
Nexus 6P
.
Of course, this is nothing new. There are already plenty of similar waterproof pouches out there, some costing less than $10. Nevertheless, this is the first such accessory made by a relevant smartphone maker.
The Asus ZenPouch comes in black, or yellow. At the moment, there's no word on its price, and neither on when, or where it's going to be released. Would you buy one?
Recommended Stories