The Army to stamp its approval on Android by year-end, iOS devices still need security clearance
38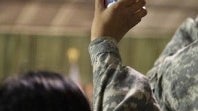 One of the largest employers in the world, the US Army, is about to stamp its approval on Android devices to appear on its private networks. Unclassified will get the green light by the end of this year, and classified information networks will embrace the little green robot by April of next year.
Prompted by the large number of soldiers that are carrying their smartphones and tablets with them, but using commercial network, the Army
started testing Android last year
, and made
a standard-issue platform
with it.
Michael McCarthy, the director of the Army's smartphone project, clarified that they are looking at iOS, too, but were not content with the security of Cupertino's supply chain, so iOS approval is probably a year or so away, he commented. Currently 20 Android tablets, 20 iPhones and 20 smartphones with the green robot are being deployed to a unit that will go to Afghanistan for testing purposes.
The Army is also testing portable towers and base stations this month, that can hook up to its satellites in the field, securing autonomous communication. About 100 smartphones and tablets will be participating in the tests, but only Googlified slates need apply, as the soldiers had said Dell's 7-inchers fit best in their cargo pants, whereas the iPad is a tad beefy for the purpose.
source:
Nextgov
via
AndroidAuthority