The U.S. Army chooses Android for their standard-issue smartphone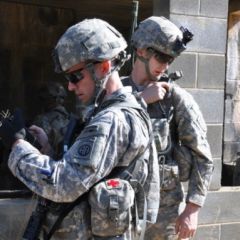 Since December, the
U.S. Army
has been officially developing a standard-issue smartphone for their soldiers. But there has been much debate about what operating system it would use, and whether it was really a practical tool to implement.
The smartphone, as it does for consumers, would facilitate communication, navigation, translation, and more in the field. And it seems the Army has settled on Android for their OS of choice
.
The 'Joint Battle Command-Platform', developed by MITRE, is the current device of choice. When the development kit is released in July, we expect it to become a very profitable new frontier for app development. Did you developers know that you might end up as DoD contractors?
But many are concerned about the security risks associated with using a popular smartphone operating system. They cite the risks which third party apps would pose, and the potential for even Army-purposed apps to embed malware throughout the Army's network of devices. While we normally look at rooting and jailbreaking as harmless circumventions, they could be life-threatening within the Army's network.
On a more practical note, they're still ironing out how to keep the device functional in low-signal environments. We're going to label this a work-in-progress, and assume it won't reach full implementation for quite some time.
source:
Wired
via
Yahoo! News