The Apple iPhone is the number one selling smartphone at three of the top four U.S. carriers
48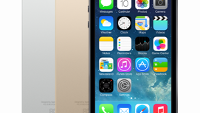 Counterpoint's Market Monitor just announced its latest report for the first quarter, and reported that a record 87% of all handset shipments in the January through March period were for smartphones. According to the research firm, the smartphone market in the states grew 7% year-over-year. During the quarter, rivals Apple and Samsung each led the way. The latter was the top supplier of handsets during the quarter, while the former was the leader in the delivery of smartphones in the period. Together, the pair controlled more than two-thirds of the U.S. smartphone market.
TCL-Alcatel took market share away from Huawei as the company moved into fourth place among U.S. handset producers, and became the fifth largest smartphone supplier in the states. Turning to operating systems, Android rose to account for 59% of the phones shipped to the U.S. in Q1, while Windows Phone accounted for 4%, an increase over the same time last year
With all four major U.S. carriers blanketing the states with LTE signals, 75% of the smartphones shipped to the U.S. in Q1 had 4G LTE support. Of those phones with LTE support shipped to the U.S., 70% of them were branded either Apple or Samsung.
Looking at information from the carriers, Apple had more than 50% market share at AT&T and Verizon, while the iPhone manufacturer represented more than a third of smartphones sold by T-Mobile and Sprint. Samsung was the top name at T-Mobile and at regional carriers. And interestingly, T-Mobile (including MetroPCS) has surpassed Sprint to be the third largest U.S. carrier based on smartphone sales. And T-Mobile is not too far behind AT&T. The figures include all MVNOs.
Lastly, after Apple and Samsung, Motorola is the third largest smartphone brand sold at Verizon. Nokia has the same honor at AT&T. At T-Mobile and Sprint, the third place brands are Kyocera and ZTE respectively.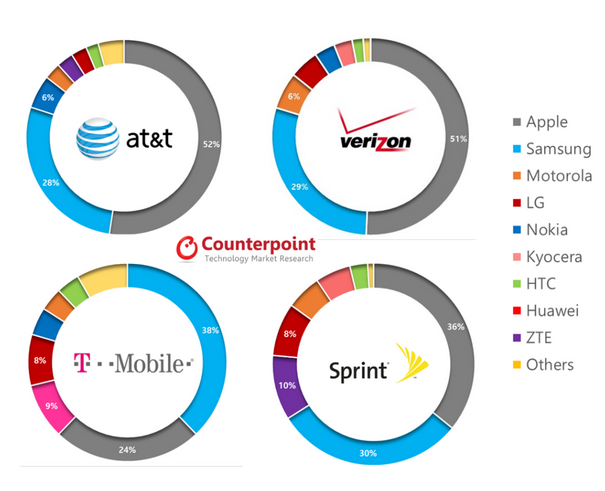 The Apple iPhone is the top selling smartphone at three of the top four carriers in the states
source:
CounterpointResearch
via
AppleInsider