The Apple Store is now selling an iPhone-compatible VR headset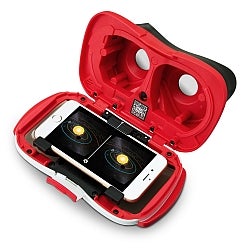 Just last week, Apple CEO Tim Cook hinted that his company is keeping a close eye on virtual reality technology, a comment that was soon followed by a report claiming that
Apple actually has a secret team working on VR
.
Today, it was discovered that the Apple Store is selling a beefed up version of a Google Cardboard headset called the Mattel View-Master Virtual Reality Starter Pack. Priced at $29.95, this is the first VR headset to make its way into the Apple Store.
If you've ever heard about the
Google Cardboard
project, then you already know all about the principle behind the View-Master Virtual Reality Starter Pack. In essence, the headset is actually made up of a set of lens and a plastic case (not cardboard this time around) that's designed to hold an iPhone. The VR set can work any Apple smartphone starting with the iPhone 5 and up.
The iPhone, through a special app, displays two separate video streams. The user peeks at the content through the lens, and due to the slight differences in the two video streams, the user's brain perceives a single 3D image instead of two separate 2D ones.
As the name implies, the View-Master Virtual Reality Starter pack only comes with demo versions of its VR apps. To unlock the full versions of Space, Wildlife with National Geographic, and Destinations, the apps that the View-Master VR headset was designed to run, customers have to pay extra.
Interestingly, View-Master has decided to go for an old-school approach when it comes to the apps, as customers have to purchase physical cartridges ($14.95 each) that unlock the full versions of the corresponding apps, which are free to download from the App Store. The headset is also compatible with Google Cardboard for iOS.
Aside from the construction and the app compatibility, there's no difference between the Google Cardboard and the View-Master VR. The higher-end, better-built, and pricier
Samsung Gear VR
adds some extra sensors and a trackpad, but still relies on a (Samsung) smartphone for the processing and the display. At the opposite side of the spectrum, next-gen VR headsets such as the Oculus Rift, the Sony Playstation VR and the HTC Vive will all come with built-in displays and will rely on powerful PCs to do all the processing work.