The A10X chip in the new iPad Pro is Apple's first 10nm processor
15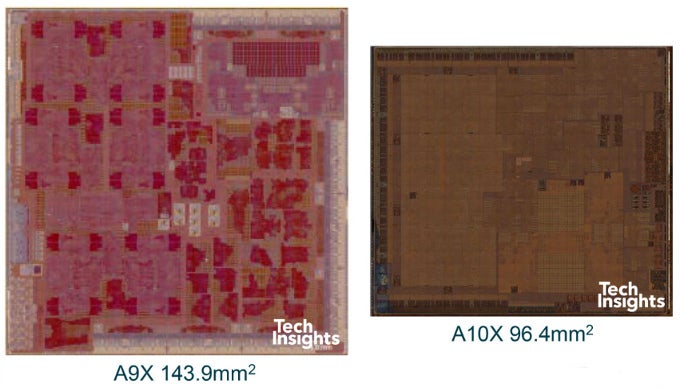 Apple's new A10X system chip in the iPad Pro is its first 10nm processor
When it comes to processing power, the homebrew and highly optimized A-series chipsets of Apple usually
wipe the floor
with the competition, especially in the single-core benchmark scores. The spring season's top smartphones, however, are typically run by Qualcomm or Exynos chipsets built on a newer method than the iPhone or iPad that get announced earlier, so they enjoy a head start for a while. The
Galaxy S8
, for instance, is powered by 10nm chipsets, while iPhone 7's A10 is still a 16nm endeavor, for those who keep track of such things.
This year, however, it seems that the Android flagships didn't enjoy their processor node advantage that long, since a teardown of the new
iPad Pro
models revealed an A10X chipset inside that is built on
TSMC's newest 10nm production method
. That's right, instead of a pumped-up A10 still built on last year's 16nm architecture, the new iPad Pro's chipset is printed with the latest-gen 10nm technology, breaking the tradition for Apple, and revealing its first 10nm processor in a commercially available device.
The die shrinkage has led to an A10X chipset that is almost half the footprint of the A9X, and much smaller than the A10, too, despite having extra cores and functional paraphernalia. When we
ran the new Apple puppies
through their paces to gauge how the node shrinkage has affected variables like core performance and battery life, we indeed found out that the new Pro models are a third faster than the already blazing Pro of the previous generation, all the while excelling in battery life. That must have been the 10nm A10X hollering from the inside.