The 5.2-inch HTC One M9+ stars in two new, high-res renders
42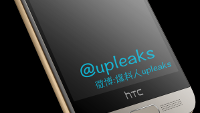 Now that the
HTC One E9+ is official
– but not before a lengthy leaks campaign first heralded its coming – it's time for us to shift our attention to another XL-sized HTC flagship supposedly in the making: the One M9+. Judging by the intensity of related leaks and rumors, the device in question is due for an announcement fairly soon, and today is case in point: new, high-res renders show us the One M9+ up close and in great detail.
Design-wise, the M9+ is a curious device. That is, it combines elements of both last year's One M8 and the more recent One M9 – we've got the familiar Duo Camera setup at the back, but also a dual-tone paint for the body. What's more, HTC seems on the verge of releasing a One flagship with a physical button up front – one much alike to Samsung's in shape – in order to incorporate a fingerprint scanner with the device's front.
So far, word on the street is that the HTC One M9+ will come touting a 5.2-inch display with a resolution of 1440 x 2560 pixels, an octa-core MediaTek MT6795T processor coupled with 3GB of RAM, and a 20.1-megapixel main camera. There's some debate going on as to whether the One M9+ will debut in regions other than Asia, though that part remains unclear. For what it's worth, the source behind the below new renders claims that fans outside of Asia will have to import one if they truly want it.