Texting while driving now the leading cause of teen death in the U.S.
17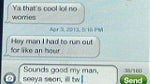 Drunk driving has been replaced and texting while driving is now
the leading cause of teen death
in the U.S. A study conducted by the Cohen Children's Medical Center of New York shows that more than 3,000 teens die each year as a result of sending SMS messages while operating a vehicle. That figures compares to the 2,700 teens that are killed each year as a result of drunk driving, a figure reported Thursday by CBS News.
The author of the study, Dr. Andrew Adesman, Chief of Developmental and Behavioral Pediatrics at Cohen Children's Medical Center, told the broadcast network that laws prohibiting texting and driving are not proving to be effective. 57% of all boys surveyed said that they text while driving even in states where it is against the law. 59% said that they sent out an SMS message while driving in states without such laws. CBS News reporter Carolyn Gusoff said that
half of all high school students surveyed
said that they have texted while operating their motor vehicle.
In order to fully make teenagers aware of the dangers of texting and driving, some schools are offering classes that discuss the dangers of sending and receiving SMS messages while behind the wheel, while other have had simulators built so that teens can experience first hand how dangerous this really is. U.S.lawmakers are trying to raise the fines associated with this action while in the U.K., those caught texting while driving will face a £90 fine ($138 USD) which is an increase of 50%.
'The reality is kids aren't drinking seven days per week — they are carrying their phones and texting seven days per week, so you intuitively know this a more common occurrence."-Dr Andrew Adesman, Chief Developmental and Behavioral Pediatrics, Cohen Children's Medical Center

"With both texting and hand-held use of mobile phones at the wheel causing more impairment than being at the drink-drive limit or under the influence of cannabis, the police need to target the large number of motorists continuing to flout the law."-Professor Stephen Glaister, director,RAC Foundation
Studies show that a person who is driving while texting is
23 more times likely
to end up in an accident than a driver who refrains from such action. Texting causes a driver to lose 79% of his or her focus. And by the way, the picture we've used as the thumbnail image for this story is the actual last text from 22 year old Alexander Heit, who was killed in an accident just as he was writing this text message. You should get the chills from hearing that.
source:
RedOrbit
,
WCBS
via
Textually.org