Texting has tons of benefits as well: infographic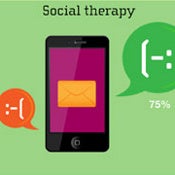 dangers of texting
- it often leads to comical situations with people falling into fountains, lakes, hitting themselves on the streets, and worse often ending up in car accidents, or worst - causing them. By now you should probably know well that texting is just not a good idea in some situations and places.
In others - it's perfectly fine. It's also convenient, not so engaging as a phone call, and often the lazy easy way to contact someone. There's plenty of benefits to it. Carriers also love it - they make huge bucks on it as the margins for texts are sky high.
Now, these are the obvious pluses. There are some not so obvious (and frankly, dubious ones) laid out in the infographic below. How about texting as social therapy? You wouldn't think it but receiving texts makes people feel more connected and generally happier. Think about your birthday and the tons of texts and Facebook greetings you received.
Also, texting turns out to be a nice way to deal with things you forget or try to change about yourself.
Examples include curbing alcohol intake and encouraging prenatal care, all with a text message as a reminder to help. Take a look at the interesting infographic below, to see how you can improve your life by texting - only when it's safe.