Distracted by their phone: five unfortunate incidents to learn from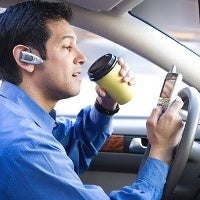 With smartphones in every pocket, we are given more opportunities than ever - we are tempted to check our email, text someone, go and quickly check our Facebook, Twitter, Tumblr... We have a myriad of distractions just waiting to devour us and disconnect us from reality. And when this happens, the consequences are not always funny. But sometimes they are and here we've brought together five recent unfortunate incidents that happened because
people were too distracted by their cell phones
to notice the world around them.
Some looked at it from the bright side, others used this to warn people about the dangers of getting too distracted by their phone and some should just be happy it all ended well.
We're sure there are plenty more incidents out there (help us out with the ones you know about in the comments below!) and the casual bumping into a wall or onto a lamp post on the street has become so common that in London lamp posts are now getting cushioned. Reports show that 1 out of 10 of us have suffered from a bruise or fracture because of texting while walking.
But even with cushioned lamp posts, the best medicine from getting in a ridiculous situation and injured would be to just check your email or leave the texting for a quieter time.