Testing reveals that iPhone 6 doesn't support high-res audio, and it might be by choice
75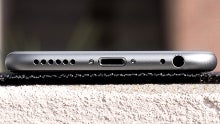 There are a few phones on the market already that are supporting the so-called high-res, ot better than CD quality audio. Out of the fairly modern brand-name flagships, the
LG G2
started with the ability to play lossless 24-bit/192kHz audio files, then
Note 3
followed suit, and opened the floodgates. The new
Xperia Z3
and
Z3 Compact
even sport Sony's DSEE (Digital Sound Enhancing Engine), that supposedly upscales mediocre quality tracks to higher-res as good as it can without the original info.
Despite the rumors that Apple is building a high-res audio tracks catalog for iTunes, working it out with the music labels (which apparently hasn't come to fruition yet), the new iPhones don't include high-res audio support in their list of features. This has been empirically proven by an audio testing expert by playing purposefully generated sampling quality tones in .wav format through the
iPhone 6
's headphone jack, and then detecting them with a high-res audio recorder, running at the required 96kHz sampling rate, 24 bits per sample.
The recorded files were then put through the Adobe Audition editing software, and matched to the original files, with the conclusion that the new iPhones don't support the 24-bit resolution. It seems that this is a deliberate restriction by Apple, as its tailor-made Cirrus Logic 338S1201 audio processor supports high-res audio in its latest stock editions.
In fact, the truth about high-res audio support by the iPhone line might line in the following comment by Apple's audio director Tomlinson Holman, given in a 2009 interview: "
Well how 'practical' is 192kHz sampling? Who can get to 24 bits of precision, one part in about 17 million in just over 5 microseconds? Nobody, that's who. Those extra bits are 'marketing bits' if the truth were to be told
." Word to the wise.