Test shows driving while texting slows reactions more than being drunk
13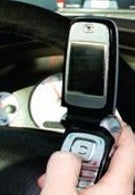 Car and Driver magazine conducted a test to objectively measure the effects of driving while sending and reading a text message, and compared the results to the figures obtained by driving while intoxicated. Two drivers drove a Honda Pilot in a straight line and were told to hit the breaks immediately when a light flashed on the dashboard. That test resulted in baseline numbers that were needed to measure the effects of texting and drinking on reaction time.
One driver going 35mph took an extra 21 feet to hit the brake while reading a text message and 16 extra feet while typing a message. At 70mph, reading a text required 30 extra feet to stop and 31 feet while composing a text. While intoxicated, the stop at 35mph required 7 extra feet and 15 feet extra was noted at 70 mph.
The second driver, the magazine's Editor-in-Chief, needed 188 extra feet to brake the car at 35 mph while reading a message and 90 feet while typing; intoxicated, the figures were 7 feet and 15 feet respectively.
While the numbers show that being intoxicated resulted in quicker stopping times than texting, the former resulted in unintentional lane changes and less control of the vehicle. A recent survey showed that 25% of those responding admitted to texting while driving a car. The entire story can be found in this month's Car and Driver magazine.
source:
CNET