Telecoms backing Firefox's Boot to Gecko Android competitor platform
14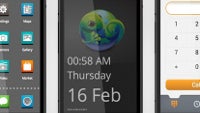 Starting next year, the world's most popular platform, Google's Android, will get one more rival in the form of Firefox's Boot to Gecko mobile platform, which now got the backing of some of the biggest carriers.
Sprint and Deutsche Telekom will both support
the new mobile operating system as ZTE and TCL Communication Technology are preparing to launch the first Firefox phones running on Qualcomm Snapdragon chips early next year.
This is important because unlike other tech sectors, sales of smartphones are defined by the carriers, who actually are the biggest sales channel. Smart, Telecom Italia, Telenor and Etisalat are also supporting the upcoming platform.
The new Firefox platform is built with HTML5 at its core, and upcoming apps will also use HTML5. It will also be free and put pressure on other platforms like Microsoft's Windows Phone that costs manufacturers up to $20 in licensing fees.
Phones running on the platform are expected to be significantly cheaper than current low-end Android handsets. Rumors mention $50 as the off contract price, which is really low.
Mozilla has also been working with Telefonica on crafting the software. We first saw a demo of the upcoming Boot to Gecko platform at MWC 2012.
source:
Reuters