TekDry, DryBox save wet smartphones from watery graves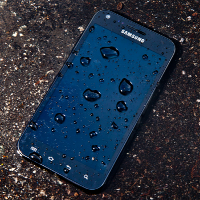 Most of you know the drill. If you drop your smartphone into a toilet, or a swimming pool, you remove the battery and stick the device into a bag of rice to dry it out. And while this does seem to draw the moisture out of a damp handset, there are a couple of companies that say using the rice is no better than leaving your phone out to dry on a table. These two firms swear that they offer a better way to save your phone by using a vacuum and low heat.
Both DryBox and TekDry offer their services from a kiosk. The former has been around since 2011 and is found inside many Texas malls and in New York's Times Square. The company just signed a contract to have its kiosks placed inside the stores of a major grocery chain. TekDry is just starting out and has opened kiosks in Colorado. The company also accepts delivery of wet devices by mail.
Both competing services use the same process. Drop your wet phone inside the kiosk and the device is depressurized using a vacuum pump. Low heat boils away the water. Designed for use with cellphones, tablets and other electronics, the whole drying out process takes 20 minutes and costs $20. And there is plenty of business to go around. According to DryBox managing partner David Naumann, 100,000 phones get wet every day.
Both companies say that the key to keeping a wet phone alive is to act quickly. Do not turn the phone on until it is dry. DryBox and TekDry both offer a money back guarantee if their system doesn't revive your device. And both claim a success rate of 70% to 80%. Craig Beinecke, co-founder of TekDry, said the best save his firm had was with an iPhone that was left in a lake for 26 hours, and then left to dry out for five days.
source:
USAToday