Teens love their smartphones, not so crazy about cars anymore
31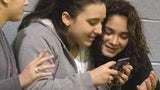 There was a time when owning a car was the boldest, most ambitious dream that the majority of teenagers had. And that was so because a having a car was perceived as symbol of freedom and a sign that the young boy or girl is ready to live as an adult.
However, according to the Ford Motor Company's point of view, that time is gone now and
a teenager's top priority has become having a smartphone
. Sure, a smartphone cannot give them a ride home, but it enables teens to stay connected with their buddies for as long as possible, albeit only virtually, through calling, texting or social networking.
Other companies that have been observing the phenomenon tend to agree with Ford. Thilo Koslowski, lead automotive analyst for Gartner said:
"Mobile devices, gadgets and the Internet are becoming must-have lifestyle products that convey status, … In that sense these devices offer a degree of freedom and social reach that previously only the automobile offered."
Furthermore, a yet-unpublished study conducted by Gartner found that 46% of people between 18 and 24 would choose having internet access over owning a car. At the same time, the Transportation Department is reporting that in 2008, only 30% of 16-year-olds got their driver's license – a figure that stood at 50% in 1978.
So, it seems like smartphones are taking over, and the automotive industry will also have the uneasy task of adjusting to the preference of young people. How about you, would you rather pick a smartphone rather than a car if you had to choose? Feel free to drop a comment below.