Teen gets arrested after tweeting a link that forced iPhones to call 9-1-1 over and over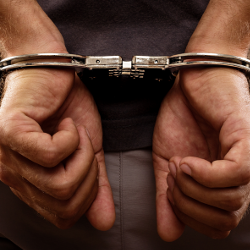 Just the other day, a 9-1-1 emergency call center in Surprise, Arizona was inundated with about 100 calls "in a matter of minutes." The phone attack left the operators in danger of being unable to receive and respond to real emergency calls. Detectives traced the fake calls and found that they all came from a link posted on Tweets sent by one Meetkumar Hiteshbhai Desai.
The teen told police that he was taught how to manipulate a bug using JavaScript code to force iOS powered handsets (iPhone models, obviously) to dial phone numbers. Some of the iPhone users affected by this "malicious link" reported their problems on Twitter. One person tweeted that she clicked on a link using her iPhone, and her handset called 9-1-1 19 times.
Desai told the cops that he was merely spreading what he deemed to be a non-harmful, annoying bug that he thought was a barrel of laughs. And he also told cops that he had another link that would not only force an iPhone to call 9-1-1, it would also freeze and reboot the device. For his attempt to prove himself a skilled member of the hacker community, Desai is facing three felony charges.
"The Peoria Police Department and the Maricopa County Sheriff's Office also received a large volume of these repeated 911 hang up calls and had the potential danger of losing service throughout Maricopa County. It was also discovered that agencies in California and Texas were affected at their respective 911 systems by this bug. Meet claimed that his intention was to make a non-harmful, but annoying bug that he believed was 'funny."-Maricopa County Sheriff's Office
source:
Gizmodo