Tablet shipments decline 7% during the second quarter; Apple iPad still on top
8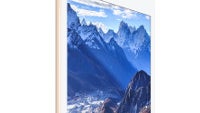 Larger-screened handsets are cannibalizing tablet sales, and unlike smartphones, tablet owners don't feel the need to upgrade to a new slate every other year. These two factors help explain the 7% decline in year-over-year global tablet shipments for the second quarter. According to IDC, 44.7 million tablets were shipped from April through June of this year, compared with the 48 million that were shipped during the same three month period last year.
On top of the list, as it has been
ever since the day it was first unveiled by the late Steve Jobs
, is the Apple iPad. The tech titan delivered 10.9 million units during the quarter, a 17.9% decline from the 13.3 million units shipped during the 2014 second quarter. Despite the decline, Apple remained on top of the tablet market with a 24.5% market share.
While Apple's global share of the tablet market dropped 3.2 percentage points year-over-year from 2014's 27.7%, Samsung's declined just 1 percentage point from 18% last year to 17% for the second quarter of 2015. Cutting into Apple's lead, Samsung still shipped one million fewer tablets this year, dropping to 7.6 million tablets that were in transit during the quarter. That was a 12% decline from the prior year.
Lenovo's 2.5 million tablets shipped during the three month period was good for third place (and a 5.7% market share) even though the company shipped only 100,000 more tablets in the 2015 second quarter. IDC declared a tie for fourth place between Huawei and LG even though the former's 3.7% market share just topped the 3.6% share owned by LG. While both shipped 1.6 million slates in the period, for LG that represented a whopping 246.4% improvement over the prior year.
Everyone else was thrown into the dreaded "Others" category. Even though this group owned 45.6% of the market, shipments declined 9.3% in the 2015 quarter.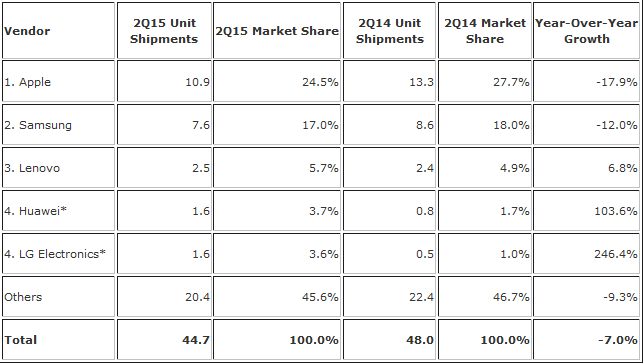 Apple still on top of a shrinking global tablet market
source:
IDC
via
TheRegister