Apple chip supplier TSMC cuts 2018 revenue forecast citing weak high-end phone sales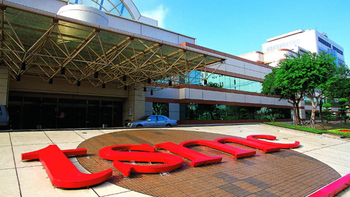 Taiwan Semiconductor Manufacturing Co Ltd, most likely better known to you as TSMC, just announced a good news-bad news scenario. The company, which manufacturers chips for companies like Apple, NVIDIA and Qualcomm, reported a 2.5% increase in first quarter profit to the equivalent of $3.1 billion, which met analysts' expectations. That happens to be the good news.
The bad news is that revenue for all of 2018 is likely to grow at the low end of the company's previously disclosed 10% to 15% range. The reason, as explained by TSMC Co-Chief Executive C.C. Wei, is that the rebound in China's smartphone market didn't extend to high-end handsets, the segment served by TSMC.
The Chinese smartphone market
saw a decline in shipments last year for the very first time
. Additionally, pricing and margins are under pressure thanks to low-cost manufacturers in the country. As a result, TSMC now expects contract chip manufacturers like itself to show annual growth of 8% this year, down from a previous 9-10% forecast. TSMC sees high-performance chips making up 40% of its growth over the next five years, up from its original forecast of 25%. These chips are used for AI, blockchain and cyptocurrency mining, although the latter could be slowed by regulatory issues.
TSMC President Mark Liu said that the company will have little to no effect from the recent decision by the U.S. Commerce Department to
revive a U.S. export ban on ZTE, which will run through 2025
. ZTE was caught lying to U.S. regulators about its compliance with a previous agreement made by the company with the U.S.
"We think the effect is very, very minimal. Currently we are studying the impact on ZTE suppliers but at first glance, we have a very wide customer base, so ZTE, depending on where its suppliers are from ... we being everyone's foundry, we have a very wide spread ... the impact is minimal"-Mark Liu, president, TSMC
For the current quarter, TSMC expects revenue to grow 10.5 to 12% higher, year-over-year. That would result in gross of $7.8 billion to $7.9 billion for the three month period expiring in June.
source:
Reuters