Chinese smartphone shipments declined in 2017 for the first time ever
20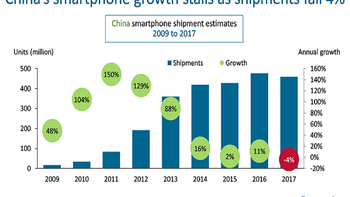 No, 2017 was not a good year for smartphone shipments into China. According to research firm Canalys, for all of last year such deliveries declined 4% from 2016's figure to hit 459 million units. That is the first time ever that the country experienced a year-over-year decline in shipments of intelligent handsets. Had the last three months of last year turned out differently, the growth streak might have continued. From October through December of 2017, just shy of 113 million phones made their way into China. That was a 14% decline from Q4 2016.
Huawei remained on top of the Chinese market by shipping over 24 million smartphones during the fourth quarter, a 9% increase over the prior year. For all of 2017, the company shipped over 90 million units. Canalys analyst Mo Jia warns that half of that total consisted of Honor branded phones; the analyst feels that there could be some "internal cannibalization" as competition between the primary brand and the sub-brand increases.
While fourth quarter shipments fell for Oppo (-16% year-over-year) and Vivo (-7%), during the three months the pair counted shipments of 19 million and 17 million units, respectively. Both companies did manage to show growth for all of 2017. There was a battle for fourth place during the quarter, and Apple managed to beat out Xiaomi for that position.
"The declining Chinese market will have a detrimental impact on those Chinese vendors that have been heavily relying on their home market. It will affect their cash flow and profitability, limiting overseas expansion and bringing into question future survival. The threat to vendors such as Gionee and Meizu is now closer than ever. There is little room left for the smaller vendors. The leading players will make aggressive plans to maintain or grow their market share. We can expect a major market shake-up in China in 2018."-Hattie He, analyst, Canalys
source:
Canalys