Samsung and Huawei aren't the only companies betting on foldable smartphones
4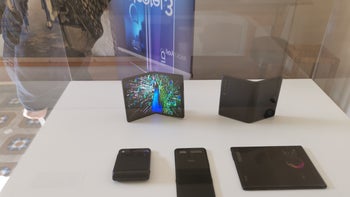 Being the first to introduce an experimental product on the market has downsides as well, not just benefits. Samsung recently
revealed its foldable smartphone
and everyone is outraged over the $2,000 price, but we need to understand that this isn't really a mass-market device, but rather an experiment aimed at early adopters.
Now, Huawei has the advantage of becoming the second company to launch a foldable smartphone on the market. The
Mate X
is expected to be officially introduced on February 24, and based on the previous history, Huawei plans to seriously undercut Samsung's Galaxy Fold.
But Samsung and Huawei aren't the only companies that are betting on foldable smartphones. Chinese companies like ZTE and TCL plan to showcase some of their foldable smartphone concepts at Mobile World Congress (MWC) 2019.
Several pictures showing some of TCL's foldable smartphones have been leaked on
Weibo
, the Chinese social network, but we don't know if the company plans to launch one this year. From the pictures, we can tell that TCL is experimenting with triple and quad camera setups, but the majority of these concepts have one thing in common: the so-called DragonHinge.
The specs sheet of one of the foldable phones confirms a large 7.2-inch AMOLED display with 2048 x 1536 pixels resolution. The size is halved when the phone is folded, while the whole device features a 90% narrow-bezel design. That's about all we have in terms of specs, but we might be able to find out more in the coming days.
Foldable smartphones are just at the beginning, so it will take some time until they will be refined to the point that they will actually be useful to the end user. For now, they're just an experiment that might or might not find the audience they need to become mass market products.