Foldable Huawei Mate X leaks as 5G Galaxy Fold competitor
28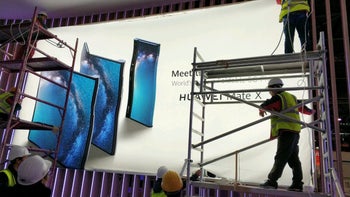 Samsung impressed consumers across the globe earlier this week with its first foldable smartphone, the Galaxy Fold. But come this Sunday, the $1,980 offering could gain its first competitor.
Set to be called the Huawei Mate X, the upcoming foldable device has been
spotted
on a huge poster in Barcelona that is being displayed ahead of MWC. On it, Huawei encourages people to "meet" the world's "fastest foldable 5G phone." At the moment, very little is known about this offering internally. However, today's images do reveal quite a bit about the exterior.
Now, unlike the
Samsung Galaxy Fold
, the Huawei Mate X features just one display that can be folded in half. This allows it to be used like any other regular smartphone, albeit one with a curved edge on the left and a screen on the back.

If you prefer to take advantage of the entire screen real estate, unfolding the device grants access to a tablet-like experience with minimal bezels and no notch. The rear of the Mate X isn't visible on the poster but it does appear to include a slightly thicker area along the right side. Fortunately, this aligns perfectly with the display when folded.
This added area of thickness on the back is also home to the rear cameras. In this case, a triple-camera setup that will presumably match that of the
Huawei Mate 20 Pro
. This should allow for some impressive photos in both well-lit and low-light situations.

Huawei has previously stated that its first foldable smartphone will be released this summer. Pricing, on the other hand, is still unconfirmed. But considering Huawei's goal of overtaking Samsung by the end of 2019, the Mate X will probably undercut the latter's offering by a decent margin.