T-Mobile ups the cost of an iPhone 5 to $149.99
11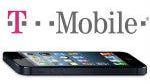 T-Mobile has been selling
quite a lot of iPhones
since the carrier first started offering the device, and part of that could be that there is nowhere you can find an iPhone 5 as inexpensive as on T-Mobile. But, that is changing just a bit, because T-Mobile has quietly raised the up-front price of the iPhone 5 by $50 to $149.99.
T-Mobile had been selling the phone for just $99 up-front, and $20 per month for two years, which added up to $579. That made T-Mobile's iPhone a solid $70 cheaper than if you were to buy it full price on AT&T. Apparently, that $99 up-front price was just a one-month promotion, which T-Mobile never made clear, and there has been no evidence to support this idea aside from a single screenshot found at TMoNews.
So, now if you want an iPhone through T-Mobile, it will ultimately cost you $629 over the course of two years for the 16GB variant. The 32GB and 64GB variants are also seeing their up-front pricing bumped by $50 each.