T-Mobile tempts Sprint customers to switch, offers $200 in bill credit per line
10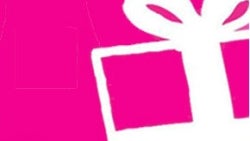 Earlier this week, T-Mobile announced that it's handing out
three months of unlimited LTE data
for all Simple Choice postpaid subscribers. Today the carrier upped the ante on its holiday offers and unveiled a second "Un-carrier Unwrapped" promotion, one that offers $200 in bill credit for each line that customers port from Sprint or its subsidiaries.
T-Mobile says that each Sprint number that customers will switch to a Simple Choice postpaid plan can get them $200 in bill credit. No device trade-in is required, but you can stack the $200 in bill credit with T-Mobile's Carrier Freedom offer, a campaign through which the Magenta carrier offers to pay up to $650 in early termination fees with an eligible device trade-in.
While this offer is tempting even for a single number, families or business willing to port all of their lines might be in for huge savings through T-Mobile's second "Un-carrier Unwrapped" promotion. The deal kicks off this Thursday, November 26th.
In the past couple of years, T-Mobile has adopted a very aggressive strategy when it comes to rivaling the three other major carriers in the US. As T-Mobile is now the third largest carrier in the US by subscriber count, surpassing Sprint, it appears that these aggressive measures have paid off for T-Mobile. Sprint itself has been trying to catch up with T-Mobile and has responded with some interesting campaigns of its own, but this new offer isn't likely to help Sprint in its efforts.
T-Mobile appears to be on a roll with its holiday gifts, and with the carrier promising a new gift at least once per week, the fun is far from being over. Looking forward, T-Mobile CEO John Legere confirmed that AT&T and Verizon customers will be tempted to switch to the Magenta side through future promotions.