T-Mobile set to launch new 'Data Only' monthly bundles from Wednesday
7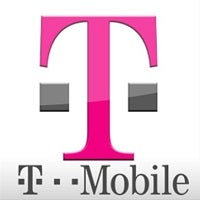 Accompanying today's news of
the new John Legere Twitter emoji
was the hint of an important announcement from his company, T-Mobile. Now, a leaked document seems to have slipped the details of a new series of 'Simple Choice Data Only' packages. In short, T-Mo's new bundles do not include voice minutes, allowing Data Only users to instead enjoy better rates on those precious GBs of data.
Thanks to the evolution of the smartphone, the mobile industry is quite a different animal to what it was a decade ago. Where carriers used to focus on offering minute-and-text packages to consumers, the primarily bargaining chip in today's world is data. In fact, not only is it the most important aspect to nearly every mobile consumer, but to many smartphone users, it's the
only
consideration.
The likes of WhatsApp, Facebook Messenger, LINE and Viber can all do instant messages and voice calls, which means that both minutes and texts have become largely redundant. Network operators continue to peddle deals inclusive of minute and SMS allowances, when, by and large, these go unused.
Being the self-styled 'Un-carrier', T-Mo wants to shake things up, and a leaked document shared by
TmoNews
spills the beans on what users can expect of these new Data Only deals:
2 GB for $20
6 GB for $35
10 GB for $50
14 GB for $65
18 GB for $80
22 GB for $95
From a data point of view, the monthly rates above would stand as a considerable improvement pre-existing Simple Choice plans, which include what many would deem contractual bloatware in calls and texts. If data is your main draw, then you may want to look into what T-Mobile has going on here. Though you don't get any minutes with these packages, you still -- usefully -- get unlimited texts.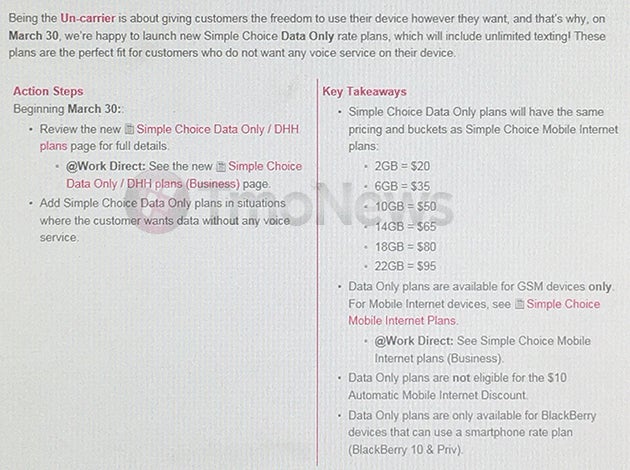 As you can see, the packages are for GSM devices only. Also, if you happen to be rocking a BlackBerry and it's not a Priv, it'll need to be running BB10. The small-print also confirms that Data Only plans aren't eligible for the $10 Automatic Mobile Internet Discount.
The leaked document suggests that the new plans will roll out on Wednesday, March 30th. We'll keep our eyes peeled for an official announcement, so stay tuned.
In the meantime, do these monthly data bundles pique your interest? Let us know of your take via the comments.