T-Mobile prefers having a wide selection of Androids than the iPhone (Sponsored Post)
48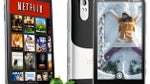 This story is sponsored by T-Mobile.
As it stands right now,
T-Mobile
is the only major U.S. carrier without the iPhone in its line-up. However, if you think that there's much uneasiness over at T-Mo world because of that, it might be worth it to see the carrier's point of view: T-Mobile is firmly convinced that it has all the firepower needed to match its competitors, and even beat them. How does it plan to achieve that? Through Android and smart pricing.
Being the first carrier to launch an Android phone in the world, T-Mobile clearly recognizes the great potential that's found inside Google's mobile OS. The carrier has been steadily building a
robust portfolio of Android handsets
, designed for pockets of different sizes. Among the most stand-out products in its catalog are the marvelous
Samsung Galaxy S II
- the people's champion, so to speak, and the
HTC Amaze 4G
. As you can imagine, both smartphones feature incredibly large screens, super-snappy dual-core processors and connectivity to T-Mobile's 4G HSPA+ network - all of which are features that make them fully capable of going toe-to-toe with the latest iPhone. Besides, there are many other Android handsets available with the carrier, all meant for different types of customers and catering to different needs (big/small, premium/affordable, with QWERTY/without QWERTY). This combination of choice, together with the great personalization options of Android, is what T-Mobile says makes its portfolio better than simply carrying the iPhone.
Speaking of its
HSPA+ network
, we should mention that T-Mobile follows the "one size doesn't fit all" approach here as well. The carrier has a wide range of both individual and family plans, which you can personalize via various minute, text and data bundles. And if you need to get two new lines, you can do so with T-Mo throwing in unlimited talk, text and data for only $49.99 per line - a nice service plan to complement your powerful Android phone. However, you'll definitely have to lay some more cash for a plan if you want to get, say, an iPhone 4S on some of the other carriers. This is a nice example of how T-Mobile competes through a flexible portfolio of hardware and service products.
So, these are the main weapons in T-Mobile's arsenal against its rivals and the iPhone right now - a great choice of Android phones and affordable data plans to go with them. Now it's your turn to tell us if you are content with what you see in Magenta's line-up! Is there something that you'd like to see added? Sound off in the comments below!