This might be the best $87.5 million T-Mobile has ever spent
6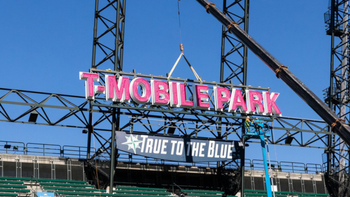 You might expect that a stadium named T-Mobile Park to offer excellent wireless service. And to make sure that is the case, T-Mobile has increased the wireless capacity in and around the Seattle Mariner's home field by three-fold. In addition, the nation's third largest carrier has added some new features.
As GeekWire reported
(via
TmoNews
), instead of having to wait in long lines to enter the park, there will be a T-Mobile Customer entrance that will allow a ticket holder to gain entry to the park by displaying a virtual ticket on the screen of his phone.
T-Mobile reportedly paid $87.5 million for naming rights to the Mariner's home field. That deal covers 25 years, and replaces the previous 20-year contract with insurance outfit Safeco that expired at the end of last season. Knowing T-Mobile CEO John Legere's marketing prowess, we can just imagine how he jumped at the opportunity to rename the stadium, especially since T-Mobile has a promotional deal with Major League Baseball making it the official wireless provider of the Big Leagues.
One major change that T-Mobile made to the ball park was the color scheme. There is magenta everywhere, including the steel support beams inside the park; each of these beams will sport 32 outlets for fans whose phones are running low on battery life.
"In regard to coverage, we've increased capacity in and around T-Mobile Park by three times. So there should be no problems uploading, streaming, showing all of your Instagram Stories when you're here at the game."-Krystal McIntosh, T-Mobile
T-Mobile Park also features a Home Run Challenge beyond center field, where ticket holders to a particular game can hit a ball off a tee and watch the results on a screen. Animation makes it appear as though that the batter was at home plate inside the stadium. This is actually a shameless promotion for the wireless provider's upcoming 5G service since the screen shows both "4G and 5G" results. With the former, the batter is likely to be seen hitting a weak infield grounder. With 5G, it appears that the batter has hit a tape measure homer.
It does appear that T-Mobile has made the most of its investment by making those attending attending Mariners home games feel as though they've walked into a living, breathing T-Mobile ad. And don't forget the countless times during the upcoming season that some sportscaster somewhere will say "T-Mobile Park." Make no mistake about it, no matter how the Mariners do this season, T-Mobile has spent its money wisely.
The newly named stadium sees its first regular season action this coming Thursday when the M's open up their 2019 campaign by hosting the defending World Champion Boston Red Sox.