T-Mobile apologizes and removes ads from notification bar
13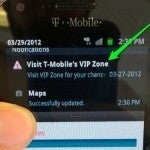 "During a recent software update, a message to promote T-Mobile's free VIP Zone was mistakenly sent to certain customers and appeared on the notification bar for some Android devices. After
T-Mobile
was made aware of this mistake, the company stopped the notifications.
T-Mobile
apologizes for the inconvenience this may have caused customers."
Never underestimate the power of the media. On Friday afternoon, we told you that some of T-Mobile's Android toting customers
were receiving ads in their notification bar
. By late Friday evening, the carrier was saying
that it was all a mistake
and that it has corrected the problem. Additionally, the nation's fourth largest carrier apologized "
for the inconvenience.
"
So we have to give
kudos to T-Mobile
for the speed at which the carrier saw what was going on, figured out what caused the problem, and made the necessary correction. For all of you T-Mobile customers who were upset about having to read an advertisement on their notification bar, you shouldn't be seeing them anymore.
source: T-Mobile via
TmoNews