T-Mobile announces its new pricing for business accounts
5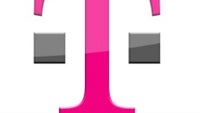 T-Mobile on Wednesday, announced some changes to its pricing on business accounts. Companies now have two different plans to choose from, Simple Choice Classic and Simple Choice for Business. The Classic is, well, a classic plan where each employee receives a subsidized phone. The company signs a contract and the plans range from a monthly charge of $40 per line for unlimited talk, text and 500MB of data to $70 each month for unlimited everything and 2.5GB of tethering.
Resembling T-Mobile's newer plan for the average dude and dudette, the Simple Choice for Business does not revolve around contracts and is priced at $20 a month for 500MB of data to $50 per month for unlimited. Each line will then be allowed access to T-Mobile's equipment financing where a down payment is put down and the rest of the device is paid off in 24 monthly installments.
The business plans are only valid for companies with 6 or more people. Those with less than that will end up with the same fee structure that the carrier uses for its family plans. That means unlimited talk, text and 500MB of data with the first line $50 per month, $30 monthly for the second line and each additional line $10 per month. You can add 2GB to the 500MB of data for $10 per line per month or go unlimited for $20 a line, each month. We should note that only the first 2.5GB of data is 4G. T-Mobile will throttle a company's data speed after that 2.5GB threshold is reached.
Assuming that you are paying off a
Samsung Galaxy S III
, T-Mobile's Simple Choice for Business Plan saves businesses $240 a year over AT&T and Verizon for unlimited 4G service, and $119.88 versus Sprint's plan. Without paying for the phone, you'd be saving $480 a year over AT&T and Verizon and $359.88 in comparison to Sprint's plan.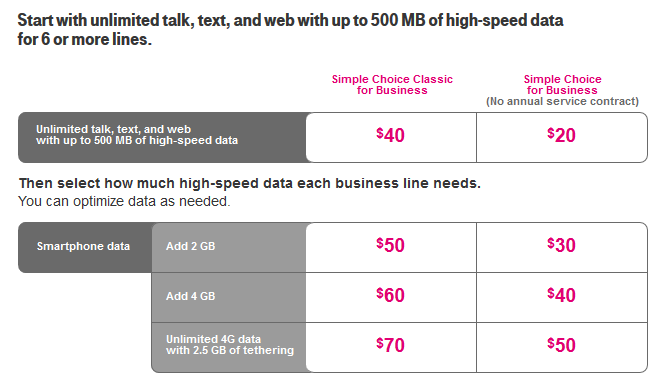 T-Mobile's business plans for companies with more than 6 employees
source: T-Mobile