T-Mobile amps up Binge On, adds YouTube as official provider
21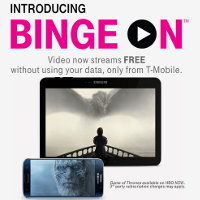 T-Mobile announced today that Binge On has been "amped up." As a result, T-Mobile customers eligible for the service can now stream video from more than 50 providers without using their data. New providers added with today's announcement include YouTube, Baeble Music, Discovery GO, ESNE TV, FilmOn.TV, Fox Business, Google Play Movies, KlowdTV, Red Bull TV, and more. T-Mobile says that the list of video streamers that are compatible with Binge On now accounts for 70% of the video that the mobile operator's customers view on their phones or tablets.
Thanks to the extremely popular plan, T-Mobile customers with limited high-speed data are watching twice the amount of video, more often and for longer periods of time. According to the nation's third largest carrier, 57 million GB (57 petabytes) of video has been streamed without 1KB of customers' data touched. This would be enough data to watch Adele's Carpool Karaoke with James Corden more than 460 million times. (We're not sure about reports that the T-Mobile employee in charge of checking that tidbit out has been institutionalized. Uh, that's a joke by the way).
One video streamer says that it has recorded a 90% increase in the number of active viewers from accounts with limited high speed data. Watch-times have tripled.
The mobile optimization of Binge On limits the resolution of streamed video to 480p, which is DVD quality. But T-Mobile subscribers can disable the feature if they so desire. One big change coming with the amped up Binge On gives video providers the ability to manage the video stream themselves without using T-Mobile's mobile optimization. This means that the provider will optimize the video stream to 480p once the T-Mobile customer starts streaming from the service. YouTube will be the first to have this capability.
You can check out the complete list of providers, and even request one that you would like to see added to Binge On, by clicking on the sourcelink.
source:
T-Mobile