T-Mobile adds 16 new video streamers to Binge On
24
T-Mobile CEO John Legere has to be the only executive in the world who can get away with saying that something is "cool." Legere was talking about D-Pan TV, which is a television network that broadcasts programming using sign language. The channel is one of 16 new video streamers that has been added to Binge On. That takes the number of providers to the service over the 100 mark.
For those who have been Rip Van Winkling their way through life, Binge On is a feature offered by T-Mobile that allows subscribers to view streaming video from certain streamers without using their high-speed data. Video is viewed at DVD resolution (480p) and it can be disabled if a subscriber chooses.
The new video streamers added by the carrier include:
ABC
Big Ten Network
CEEK VR
DISH Anywhere
Disney Channel
Disney Jr.
Disney XD
D-PAN.TV
DramaFever
FOX NOW
FXNOW
NAT GEO TV
Shalom World
Sioeye
Tubi TV
Since the start of Binge On, T-Mobile subscribers have streamed 765 million hours of video without burning even 1KB of their high-speed data.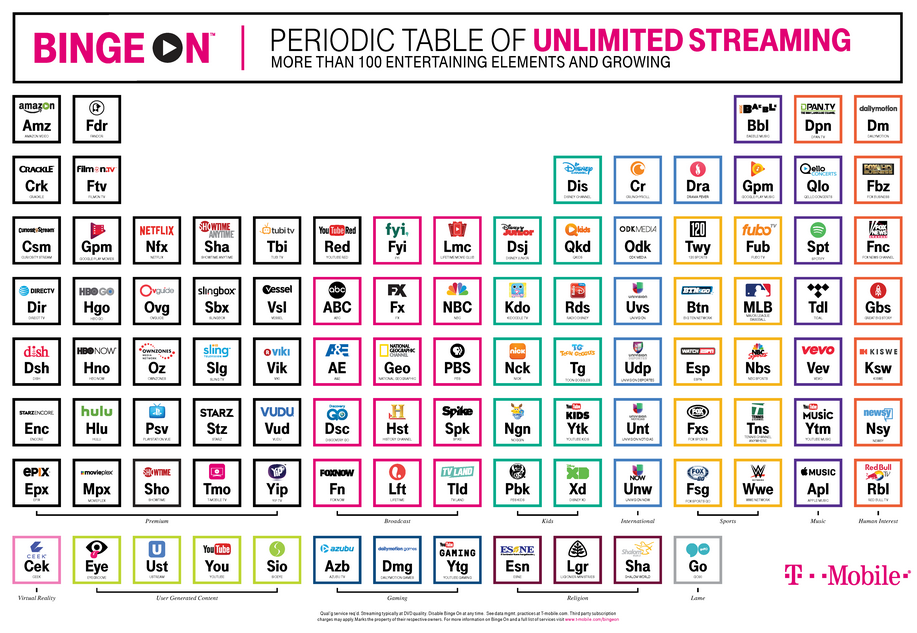 Over 100 video streamers provide content to BingeOn
source: T-Mobile