T-Mobile USA offloads 5 million callers to Wi-Fi
11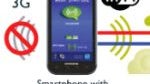 In 2007, T-Mobile introduced its
HotSpot@Home
Wi-Fi calling service, that utilized Kineto base stations to replace customers' landlines. Since that time, those base stations have been more for offloading network traffic and improving coverage, rather than replacing landlines.
T-Mobile is now proud to announce that as many as 5 million of their 34 million customers use Wi-Fi for at least some of their calls. Of those 5 million, about 1.25 million are using T-Mobile's new
Android Wi-Fi
calling app. All told, their Wi-Fi calling option relieves the network of 40 million calls per month.
T-Mobile's director of product development, Joshua Lonn, says that their Wi-Fi calling is still positioned as a coverage booster. That is partially because users can't switch between Wi-Fi and the network in the middle of a call. Additionally, Wi-Fi calls still count against the user's minutes, so customers don't see it as a cost-reducing solution.
In 2011,
T-Mobile
plans to add the Kineto Wi-Fi app to all of its Android devices. They also hope to expand the service to their Windows Phone 7 devices in the unspecified future. Most importantly, T-Mobile and Kineto are working to make Wi-Fi calling an automatic function. That would mean that customers would be able to automatically utilize nearby Wi-Fi hotspots, rather than manually select a hotspot and the Wi-Fi calling option.
It's great that Wi-Fi calling improves coverage, and reduces the network's burden, but shouldn't there be further advantages for the customer? How about Wi-Fi calls only counting as half-minutes on your plan?
source:
Connected Planet
via
FierceWireless