T-Mobile launches HotSpot @Home nation wide
2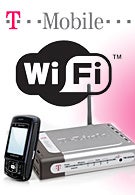 Today T-Mobile USA launches its new service called HotSpot @Home, nationally and now anybody can use it, with a compatible phone. The carrier offers Samsung SGH-T409 and Nokia 6086 for $50 each with a two-year contract. Additionally, you need service which costs $10 a month for individuals and $20 for FamilyTime plans, during a limited promotion period. After it ends, the prices will be respectively $20 for single line and $30 for Family one.
The HotSpot@Home uses UMA technology to seamlessly pass from GSM network to WiFi local connection. When connected to the WiFi network, the phone uses it to conduct the call through it and enables you to make and receive unlimited nationwide calls. The two phones won't be able to use the WiFi for data connection, for browsing the web or using email. For this, they will connect through GPRS/EDGE.
T-Mobile recommends using its self-branded routers, but you can use any standard WiFi one. T-Mobile WiFi routers are free after mail-in rebate for people who have chosen the Unlimited calling Add-On.
HotSpot @Home is a good option to reduce the bills if you talk a lot from locations where you have access to local WiFi networks, like Home, Office or any U.S. T-Mobile HotSpot location for example. It also gives you option to increase the signal strength indoors, as this way the signal will depend on the Wlan router instead on the carrier's antennas.