T-Mobile USA adds a new short series to its ad campaign
5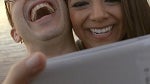 T-Mobile TV ads usually mean "the T-Mobile girl" in a pink dress. Carly Foulkes remains as a part of that image, though T-Mobile is branching out with a new series of shorts which highlight the lives of some semi-famous people whose lives and livelihoods have benefited from advances of mobile technology and technology in general.
We say semi-famous because the people being featured are not known to most of the world, but will have quite a bit of notoriety in specific demographics. The first installment of these new shorts features none other than Chris Pirillo, the self-described geek who may be familiar to you most recently because of his
on-the-street work assessing reactions to Windows 8
or through the the site he runs called LockerGnome.
The other people we can expect to featured in T-Mobile USA's upcoming shorts campaign videos are professional surfer Jamie Sterling, DJ pro RJD2 and Andy Blackman Hurwitz who has gained notoriety for making kids' music that sounds like…well, music.
Meanwhile, what we can glean from Pirillo's feature besides being a fan of T-Mobile USA is that he likes legos and he has an impressive Star Wars collection.
source:
AllThingsD