T-Mobile Samsung Galaxy S II unboxing and hands-on
12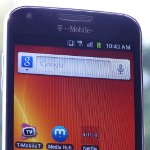 Well hello there
T-Mobile Samsung Galaxy S II
, you surely decided to take your time in
coming to market
, but nevertheless, we're sure there are hungry customers that are still ecstatic to know that you'll be making your presence known very soon. In fact, it's planned to become available for purchase starting on
October 12th
in stores, while boasting a somewhat pricier tag of
$229.99
after a $50 mail-in-rebate. Now that we've checked out the versions for
AT&T
and
Sprint
, we're curious to know how this modified Samsung Galaxy S II will be able to entice people.
Not surprisingly, the T-Mobile Samsung Galaxy S II utilizes the same box packaging used by its high-end brethren. Up front and taking center stages, there's a an accurate sized image of the handset showing off its tantalizing beauty – with the usual Samsung and T-Mobile brandings littered around its sides. Flipping it to the rear, there's a small section that highlights some of the handset's features. Inside, we're given the same usual assortment of items – like its documentation, microUSB cable, and wall charger. However, Samsung is generous to include a pair of stereo headphones and 4 ear bud replacements. Besides that, one would probably assume to find more due to its pricing – but we always tell ourselves to not get our hopes up.
Similar in design and size to Sprint's Samsung Epic 4G Touch, partly because its shares the same
4.52" WVGA Super AMOLED Plus
display, there's really nothing all that different with its appearance. Sure it may be
wide
enough to become too unwieldy for some to handle with one hand, but it's still sporting a
streamlined
profile – though, it's not as thin as the original GSM variant. With this mostly plastic device, we actually like the rubber feeling back cover, as it's able to provide us with ample grip while holding it. At the same time, it's able to keep it looking clean.
Needless to say, the very thing to capture our attention is its brilliant Super AMOLED Plus display, as its brightness output and vivid colors are able to attract our eyes. Of course, it literally provides a lot of the handset's eye candy, but some might be turned off by the fact that it's simply sticking with
WVGA
resolution. Still, it's very hard to not find it appealing. Strangely, the handset is no longer packing the
dual-core Exynos processor
like its siblings, but rather, it favors using a
1.5GHz dual-core Qualcomm Snapdragon S3 processor
with 1GB of RAM. So far, its operation appears to be smooth, but it doesn't exhibit the same tight response as its sibling – however, it's more than acceptable.
Obviously, we'll bet testing it out extensively to see how it all pans out in the end – or whether or not it'll have a leg up over the completion. Expect our review soon!