T-Mobile G2x takes screenshots easily, without rooting the device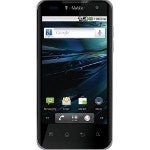 With the Android operating system, taking a screenshot off a phone is not simple. This is something that is not the same with every operating system because those using an Apple iPhone with iOS 2.x can easily snap one. But Google's open source OS forced those wanting one to root their phone, which many won't do just for the sake of being able to snap a screenshot.
Now things might have changed for the Android operating system. The T-Mobile G2x and its overseas cousin, the LG Optimus 2x, both were designed by the Korean manufacturer to take screenshots very simply. All you do is press the
power
and
home
buttons simultaneously and that's all there is to it!
Kudos to LG for designing something so simple, so easy that a G2x totin' caveman could do it. And it's possible that we could see Google implement this in future builds of the Android OS.
source:
IntoMobile