T-Mobile Flex Pay customers having trouble upgrading to new phone
This article contains unofficial information.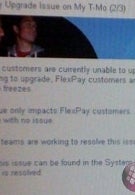 Those T-Mobile customers using the Flex Pay option are having technical difficulties when trying to upgrde to a new phone using the My.T-Mobile.com site. One sign that you are having a problem is the hourglass on the webpage. No folks, an hourglass is not supposed to spin or rotate for 45 minutes while your page is downloaded. The T-Mobile support team is hard at work, trying to resolve the problem and there is no definitive word on when the web service will be back up. In the meantime, you can always call customer service and make the upgrade over the phone. Or you can try this radical suggestion-visit the store! That's right. Visit your local T-Mobile store and physically touch the phone that you want and then have the upgrade put through by a rep. Yeah, I know this sounds unusual and places undue stress on you, but with the web page not working, what are you going to do?
source:
TmoNews