T-Mobile CEO uses his Apple iPhone 5s to tweet his love for the Samsung Galaxy Note 3
14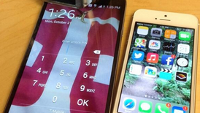 We will admit that ever since T-Mobile CEO John Legere
opened his mouth at CES and called out AT&T
, we have been keeping a close eye on him. Yes, there is no doubt that this guy is a breath of fresh air in an industry overrun by stuffed shirts in the executive boardroom. For those who have been keeping score, it has been T-Mobile that has been leading the way in the industry. It was the
first of the majors to end subsidized pricing on new phones
, and was
the first to allow a plan with multiple yearly equipment upgrades
, which hits home with a large percentage of smartphone users. And recently the carrier started offering
free unlimited data overseas
.
Clearly an executive for the times, Legere even checks the TMZ app as one of his top five things to do each morning. Who knows? That might have kept him from hiring Amanda Bynes as a celebrity endorser. On Monday, Legere sent out a tweet praising the
Samsung Galaxy Note 3
, saying that he wouldn't know what to do without the phablet. Ok, nothing odd there. But the tweet happened to come from Legere's
Apple iPhone 5s
. And here is why you have to love this guy. Within minutes, the CEO responded with a follow-up tweet that said "
oops. I carry both as you may know! That was funny
." He followed that up by tweeting a picture of a Samsung Galaxy Note 3, a gold Apple iPhone 5s and a Galaxy Gear watch.
This sort of thing has happened quite often. After accepting a paid position from BlackBerry as its Creative Director in January, Alicia Keys sent a personal tweet a month later, from her Apple iPhone. When the Chinese government was embroiled in a dispute with Apple over customer service and warranty issues, it had Chinese celebrities post on Sina Weibo their disapproval of the Cupertino based company. Most of those posts were made on an Apple iPhone or Apple iPad.
source:
@JohnLegere
via
AppleInsider