Symbian based tablets and netbooks becoming a reality?
0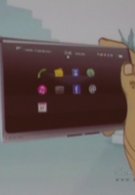 Having an open-source platform definitely has its advantages – which is evidently clear on how well Android has been able to penetrate other markets aside from smartphones. Now that Symbian is following
the same path
, there is talk about potentially seeing Symbian-based tablets and netbooks on the horizon. According to Symbian Foundation chief executive Lee Williams, in an interview with ZDnet UK, "A lot of companies are experimenting with PDA-style form factors, also for stereo systems, and internet-connected devices running low power on primarily ARM architecture – we do get the occasional interest for a few of those." The thought about it may have crossed Nokia almost late last year when they showed off their "Vision of 2015" video. Williams foresees the strong likelihood of seeing Symbian tablets in the next 1 to 2 years. Nokia recently took the plunge in the netbook market by making available their Booklet 3G; which is found running Windows 7. Now that Symbian has gone open, there will probably be a wave of developers out there who can port over the ever changing platform onto a myriad of useful devices.
source:
ZDnet UK
via
Slashgear