Survey claims mobile gamers prefer the Kindle Fire to Google Android tablets
10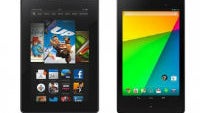 We have to admit, despite the relative popularity of the Kindle Fire line of tablets, we are always a bit surprised when there is a newsworthy story about Amazon's tablets, unless it has to do with the release of new hardware. So, you can imagine how surprised we were to hear that a survey is saying that mobile gamers prefer Kindle Fire tablets to Android tablets with Google Play services.
The info comes from the App Annie & IDC Portable Gaming Report for Q3 2013, which surveyed 1,117 respondents. The not-so-surprising results from the survey are that iOS is the most popular platform for mobile gaming with about 35% of respondents saying that they preferred either the iPad, iPhone, or iPod Touch. The iPad was also the leader among tablets with about 17% of respondents, but that didn't put the iPad too far ahead of Amazon.
The Kindle Fire tablets had about 12% of the vote, which was enough to make it number two in terms of tablets, well ahead of Google Android tablets which took in about 5% of the vote. Google Android smartphones gathered enough votes to bring the entire range of Google Play devices up to around 28% total, which would be enough to tie Apple when looking at just phones and tablets. But, Apple also has the iPod Touch, which gave iOS the win.
Kindle Fire even had enough votes to edge out the Nintendo DS & 3DS portables, as well as the "Other" category. Maybe we need to stop underestimating the Amazon platform.