Surprise! Apple's iOS 9 will come with a split-screen, multi-tasking feature on board
59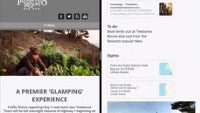 Just as it was speculated, iOS 9 scored a multi-tasking, split-view feature that allows iFans to benefit from this poweruser-friendly feature on their iPads.
First of all, there is a new task switcher on board that makes it easier to switch between your running apps. Of course, just like the app switcher we're all used to, the new one gets launched by a double-tap of the home button. When it comes to switching between apps, users will be able to do so thanks to a new feature dubbed "Slide Over"; you make use of it by swiping from the right, which will bring a second app in a split screen view, which is naturally called "Split View".
Afterwards, you can pull down from the top of your screen and switch between your apps. If they wish, users can interact with both apps simultaneously and make use of the devices' multi-touch feature. This feature in particular got demonstrated on an iPad, but here's to hoping that upcoming iPhones will also score it.
iOS 9 users will also get to watch pop-up videos on top of other apps, provided that certain conditions have been met. For example, if you're watching a video in fullscreen mode and you receive a notification about an incoming message, tapping on the message will open up the messaging app, but the video won't get paused - instead, it will continue playback in a movable pop-up window, while Messages will go into fullscreen mode. This feature will be only available on the iPad Air 2, due to its RAM capabilities.
Think of picture-in-picture, but on mobile. You can also mute the video and continue your interaction with the Messages app while the video continues to play, but sans sound, mind you.